RFC North Sea - Med has a unique contact point for requesting international capacity: the one-stop shop (OSS).
Contact details
By mail: jean.quaeyhaegens(at)

rfc-northsea-med.eu

By phone: +32 2 432 58 95

By post: RFC2-OSS 10-31 Corridor 2 - Place Marcel Broodthaers 2 -  B-1060 Brussels - Belgium
The OSS can be reached all week during office hours, except on Belgium bank holidays.
More information in the CID, Section 4
RFC North Sea - Med offers capacity shaped according to international rail freight market demand. This capacity takes the form of "off the shelf" paths, reserved for international freight and that can either be requested for the next timetable or, for more flexibility, at short term notice.
Capacity Wishes Survey
For the 6th time running, the 11 Rail Freight Corridors initiated a coordinated consultation of all interested applicants, to collect your international capacity wishes and needs for the annual timetable 2024. The result of this survey will be one of the main elements that the Rail Freight Corridors will use to build the PaP Catalogues for timetable 2024.
We will invite you to list your desired international train paths to be pre-constructed as detailed as possible, from origin to destination, in this file, including the parts of your partner companies (where available). This information will be used by the involved Infrastructure Managers to construct capacity products in a market-oriented way, under the coordination of the RFCs. Upon receiving a completed file, the submitting applicant might be invited to a bilateral exchange for clarification purposes.
We can, under no circumstances guarantee the pre-construction of all expressed traffic needs nor will there be any priority in allocation linked to the construction of similar capacity, however, providing us with this information will enable us to build an international path offer closer to your needs.
Here you can find a brief guide to help you to fill in the template.
For traffic flows passing France, please provide your information before end of June. For this you can use the historic file from SNCF Réseau, which you can find here. If you have allready submitted information on capacity wishes (EdB) directly to SNCF Réseau via Gesico, we will receive this information from them directly. In this case, information on the non-French parts of the traffic can be send to us via the standardised RFC template.
All C-OSS will centralize the information received and coordinate further with all colleagues of the different Corridors, with the utmost respect for the confidential nature of the data. If you have any questions, don't hesitate to contact any of us.
Pre-Arranged Path Catalogues
The pre-arranged paths which can currently be ordered via PCS are described in the following files:
The Catalogue for Timetable 2024: Excel File - 

version V1 of 09/01/2023

The TTR Pilot Amsterdam-Paris Rolling planning Timetable 2023: Excel File

- version V1 of 03/08/2022

The Reserve Capacity Catalogue for Timetable 2024:

Excel File

- version V2 of 03/11/2023
Who can apply for capacity ?
As stated in Regulation 913/2010, railway undertakings, international groupings that they make up and other entities such as shippers, freight forwarders and combined transport operators may require capacity on the corridor.
When placing a first request for the concerning timetable in PCS, every applicant requesting PaP sections has to accept the RFC General Terms and Conditions by clicking and accepting a pop-up message. These Terms and Conditions can be consulted in PCS at the moment the pop-up message is shown. More information can be found here.
How to apply for capacity ?
All requests for capacity have to be made through the web application Path Coordination System (PCS) and the corresponding PaP process. Via this RNE tool, the pre-coordination process between applicants and the coordination process with infrastructure managers/allocation bodies, under coordination of the C-OSS, is handled.
A PCS training will be organised in the week of 14th of February 2022 Online, jointly organised by the RFC North-Sea Med, Atlantic and Mediterranean, with support from RNE. Individual trainings can be organised upon request.
If you are not already a user of PCS and wish to use it, please contact our C-OSS to get access. The same applies for all information on the tool or requests for individualised trainings.
What capacity is available ?
RFC North Sea - Med offers international capacity in the shape of pre-arranged paths.
If the pre-arranged path does not cover the entire requested path, the applicant can request a feeder or outflow path together with the pre-arranged path request. From timetable 2019, the RFC North Sea - Med has maximised the capacity offer via the C-OSS, in publishing all harmonised international capacity via PaP. For the border points of Essen/Roosendaal and Aubange/Rodange, this means that all possible slots for international freight trains are available via the Corridor.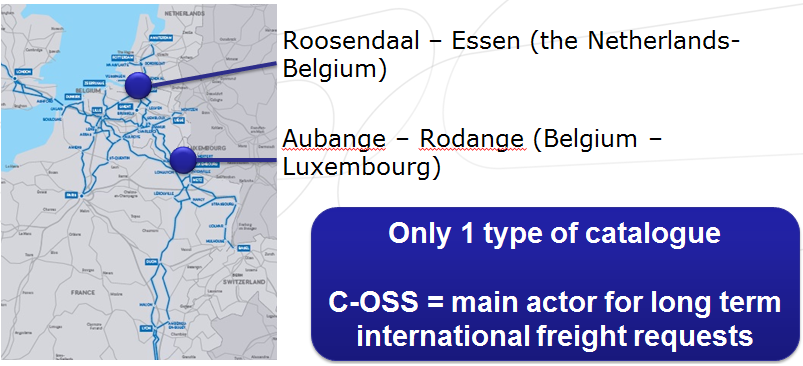 When is capacity available to order ?
For a defined timetable, RFC North Sea - Med publishes capacity three times:
2nd Monday of January until 2nd Monday in April (the year before the train run)

During summer (latest at X-2), for late paths requests and ad-hoc path requests until 30 days before the train run. This capacity is called reserve capacity and may be updated during the publication period.

At X-4, for Rolling Planning freight paths as offered on the TTR pilot lines Rotterdam-Antwerp.
To consult the C-OSS Calender for 2023 (TT2024): See CID TT 2024
Framework For Capacity Allocation
The allocation of capacity on RFC North Sea - Med is performed in accordance with the Framework for capacity allocation, established by the Executive board of the corridor. This document provides the principles of :
supply of PaPs and reserve capacity by the national infrastructure managers and allocation bodies

allocation of PaPs and reserve capacity by the C-OSS (it includes the priority rule to apply in case of conflicting applications)

applicants

regulatory control
Framework for capacity allocation for timetable 2020 (This FCA still applies for TT 2023 and TT 2024)
Appeal Procedure
Based on Article 20 of Regulation (EU) No 913/2010: in case of complaints regarding the allocation of PaPs (e.g. due to a decision based on the priority rules for allocation), the applicants may address the relevant Regulatory Body (RB) as stated in the Cooperation Agreement signed between RBs on the Corridor. Please find this Cooperation Agreement here.